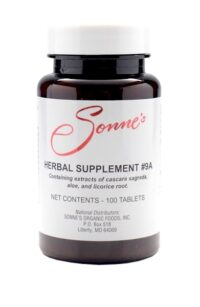 Our Sonne's #9A Herbal Supplement is a blend of cascara sagrada, aloe powder, and licorice root that is intended for relief of occasional constipation. We recommend taking two Herbal Supplement tablets the night before starting a 7 Day Cleansing Program. They can also be used daily while on the Cleanse, but should not be used regularly for an extended period of time (i.e., more than one week). If symptoms of constipation persist, you should consult with your health care provider about addressing the root cause of the constipation.
Poor dietary choices, low fluid intake, and lack of exercise are factors that can directly contribute to constipation. Bowel regularity should be achieved and maintained through changes in lifestyle, and not through the use of laxatives.
Our experience has shown that people generally get better results from the 7 Day Cleansing Program if they take our Sonne's #9A Herbal Supplements with their final Cleansing Drink of the day.
A sample of this product is included in our
7 Day Cleansing Program kit.
Recommended Dosage: When taken in conjunction with the 7 Day Cleansing Program, take up to 4 tablets the night before beginning the Cleanse, and with the final Cleansing Drink of each day. Children over 5 should receive one-half to one tablet.
Directions: When taken in conjunction with the #9 Intestinal Cleanser, take 4 tablets at night with first dose of Intestinal Cleanser and a glass of warm water upon rising in the morning. Take another tablet the second and third nights with the Intestinal Cleanser.
Contents: 100 tablets
Literature: "Herbal Supplement"
NOTICE: This product contains cascara sagrada. Read and follow directions carefully. Do not use if you have or develop diarrhea, loose stools, or abdominal pain because cascara sagrada may worsen these conditions and be harmful to your health. Consult your physician if you have frequent diarrhea or if you are pregnant, nursing, taking medication, or have a medical condition. 


Updating...