Check out our new instructional videos! This year we have introduced three instructional videos to our Sonne's Video Library. They include two daily health drinks and a healthy smoothie recipe. Sonne's has always stood for quality nutrition and daily detoxification! Try one, or all of these recipes today!: Go to: https://sonnes.com/instructional-videos
SONNE'S MAKING OUR CLEANSING COMBO
This video covers the essential Daily Cleansing Combo that helps to detox and cleanse the bowel. You will also be introduced to the benefits and unique features of both the Sonne's #7 Detoxificant and Sonne's #9 Intestinal Cleanser.
SONNE'S SURE HEALTH SHOOTER
The Sure Health Shooter is a nutritious, daily health drink that includes Vitamins A & D, Calcium, and essential fatty acids that your body requires, all in a shot glass of juice! This video demonstrates the simple combining of our #2 Calphonite, and #5 Cod Liver Oil in a shot glass of your favorite juice...making this drink the daily nutritional support for healthy skin, bones, and joint health.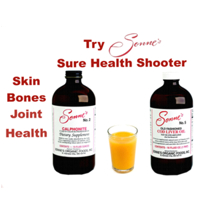 SONNE'S GREEN-CAL SMOOTHIE
Smoothies can be a delicious way to consume healthy nutrients from many different sources! This smoothie recipe is a great way to start your day or as a mid-day snack. The featured ingredients in this nutritious-packed smoothie are our #11 Greenlife powder and #2 Calphonite.