CLEANSE- GET READY FOR WINTER
Fall is a perfect time to cleanse the body and blood before winter hits! Our body is shifting from a typically active, outdoor lifestyle to a more inactive, indoor lifestyle.  The milder temperatures of Spring and Fall, lend themselves to being ideal times of the year to cleanse the body.  So consider the importance of cleansing seasonally to avoid being overweight, feeling tired and sluggish, having a slow metabolism, and impaired immune system.
Cleansing helps to clean out accumulated toxins and waste from the colon and the blood which in turn help to prevent seasonal colds. Cleansing your body can boost your immune system, energy level, improve the quality of your skin, and improve your digestion and your nutrient assimilation. 
Here are

two

different Cleansing Program methods using our 5 item Sonne's #20 Cleansing Kit:

Program #1 - Go on a 7 Day Cleansing Program
The Sonne's Seven Day program is one of the best ways to cleanse the body and blood.  It consists of fasting (without solid food) giving your digestive system a rest. Your body uses that energy that was used for digestion to concentrate on cleaning out and eliminating old accumulated mucous with the assistance of our Cleansing Combo, which consists of our #7 & #9.  However, on this program, your body is not starving just because you are not eating solid food.  In fact, your body is given the nutritional support that it needs to rebuild with the whole food nutritional from our products #3, #10, #17, #18.  Each day you will alternate between the Cleansing Combo and the Supplements every hour and a half. With this regime and daily enemas or colonics, the Seven Day Cleansing Program assists in cleansing and rejuvenating every organ, gland, tissue, and cell of your body!  We have nearly 70 years of experience in cleansing and detoxification!
Program #2 -The Daily Health Maintenance Program
Using the same products as the Seven Day Program, the Daily Maintenance Program recommends taking the Cleansing Combo twice daily and the Whole Food Supplements during meals throughout the day – our rebuilding diet guidelines are available at the links below.  This daily detoxifying and rebuilding program is just what you need to make sure you are providing your body with sufficient fiber, detoxification, and whole food nutritional supplementation.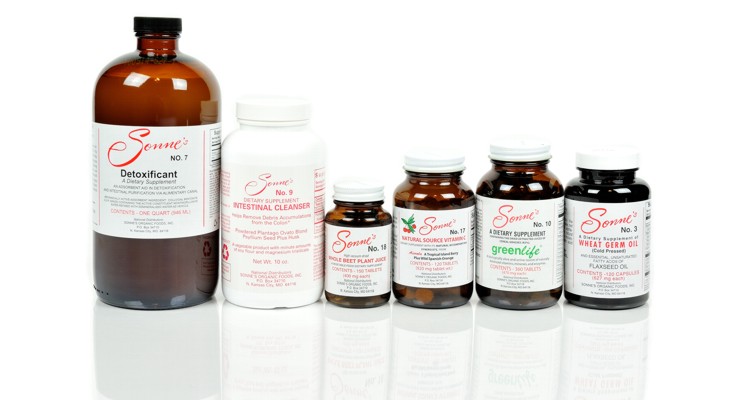 The #20 Sonne's Seven Day Cleansing Kit consists of the following products:

Cleansing Combo
#7 Detoxificant
#9 Intestinal Cleanser
Supplements
#3 Wheat Germ/Flaxseed Oil Capsules
#10 Greenlife
#17 Natural Source Vitamin C
#18 Whole Beet Plant Juice Tablets (this product is not included with the #20 Cleansing Kit , however you may add a bottle of the #18 Beets or order the "Deluxe" Cleansing Kit, which includes the Beets.)­
Note: The #20 Cleansing Kit also includes a sample bottle of the #9A Herbal Supplement (which has a laxative effect) that will help assist s individuals with constipation. Our cleansing motto is "Perfect Nutrition and Perfect Elimination".  Make these cleansing methods your yearly goal in helping prevent disease and keep the body in dynamic health!
Additional Fall Cleansing Suggestions:
During the fall, the temperature is cooler and you may feel a little chilled.  Here are some warm, inviting recipes you may use while you are on the Seven Day Cleansing Program.
Pottasium Broth

(For 2 day supply)
3 - 4  chopped organic CARROTS
3 - stalks of chopped organic CELERY
1/2 bunch of PARSLEY
2 - 3  Chopped organic red or yellow POTATOES w/ skins
1/2 head of CABBAGE
1 - chopped organic ONION
1/2 bunch of BROCCOLI
2 Tablespoons of snipped dry SEA GREENS like kelp or nori
Directions:
Cover the vegetables with water in a soup pot.  Simmer for 30 minutes.  Strain and discard the solids.  You may add a pinch of sea salt, himalayan or celtic salt.  Or, add 2 teasp. Bragg's Liquid Aminos or 1 teaspoon of Miso.  Store in the refrigerator, covered.
(Recipe from Linda Page's Healthy Healing - A self-help guide for Everyone)
This broth may be taken anytime throughout the cleanse without inhibiting the cleansing process.
Herbal Teas
We recommend drinking only water while on the cleansing program. However, there are some herbal teas you can drink that will warm you from the inside.
 1 Tablespoon of dried or fresh herbs (catnip, mint, chamomile, fenugreek, etc.) (NO Black Teas.)
2 Cups of pure cool water
  Bring cool water to a boil. Put the tablespoon of herbs in your cup.  Pour hot water over the herbs.  Cover cup with a small plate   and let steep for 3 – 5 minutes.  Strain off the herbs. Drink and enjoy.
Warm Lemon Water
 1 Lemon
1 Cup of Water
  Bring water to a simmer. Juice a whole lemon (strain off the seeds) into a cup. Add warm water to the lemon juice.  Drink and enjoy.  This drink assists in cleansing the liver and helps to stimulate the bowels.
CLEANSING PROGRAM RESOURCES:
Daily Health Maintenance Program Instructions – http://sonnes.com/daily-maintenance-program/
Seven Day Cleansing Program Instructions – http://sonnes.com/7-day-cleansing-program/
Rebuilding Guidelines – http://sonnes.com/rebuilding/
Instructional Videos will also be available at our YouTube channel and website.
http://www.youtube.com/user/Sonnesorganicfoods/videos